KS Vario Régulateur multiboucle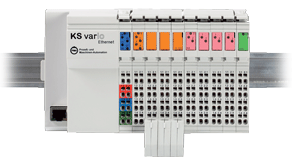 KS Vario
KS Vario offers the latest control technology together with a comprehensive range of functions for the most varied industrial and scientific thermal treatment applications. 
With its highly compact and modular design, the KS Vario system enables 4 to 30 temperature zones to be controlled independently. For this required components including; bus coupler, control unit and an arbitrary number of I/O modules in different sizes (2, 4, 8, or 16 channels), are simply plugged together whereby all inter-connections are made automatically. 
The modular approach makes the KS Vario controller unusually cost-effective and allows it to be adapted precisely to individual tasks. Due to bus coupler modules for Ethernet, Profibus DP, CANopen, DeviceNet, and Modbus - the system is open for all major industrial field buses.
Copyright © 2021 West Control Solutions